THINK IT OVER
Can you believe some folks spend more time pondering their new shoe purchase than they do thinking about their house colours? No way! You are going to see this colour each and e-v-e-r-y day, my friends. Maybe for like the next 10 years ... so it's worth popping on your thinking cap for this one.
NEUTRAL FOR THE WIN
Neutrals play an important role in the colour game. They are something of an unsung hero, setting the mood and tone of a space and providing the perfect background for accent colours to pop and shine. Grey falls into the "neutral" colour family (along with white, cream, stone, brown and black) and is an oh-so popular choice for exteriors as it works well across different house styles, from super modern spaces to more traditional period homes. The best thing about neutrals? They are timeless, a huge tick if you are wanting to get 10+ years from your exterior paint job.
GOING GREY
When it comes to exterior colours, grey is the current neutral du jour. Look for darker grey tones (charcoal, pewter, slate) to add an air of drama, elegance and sophistication to your exterior. Lighter greys (silver, dove, oyster) will create a calm, tranquil space and to make your home appear larger.
Greys can be gorgeous, they can also be a little depressing, a la Melbourne winter! Adding a little contrast to your exterior will make your grey glow. Crisp white looks amazing with grey (light or dark). Use it to highlight details such as door and window frames or lovely lacework.
Worried grey might be a little, well boring ... no way! Pep up a gorgeous grey exterior with a fab front door. We've popped together our fave ideas right here.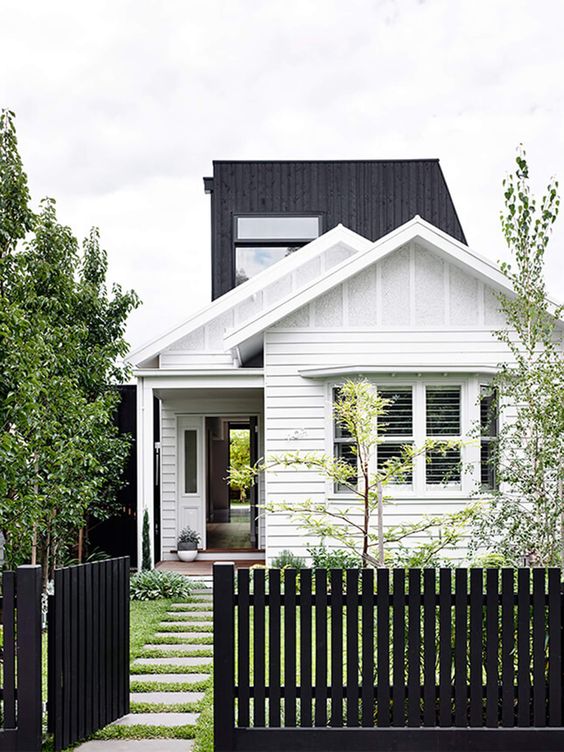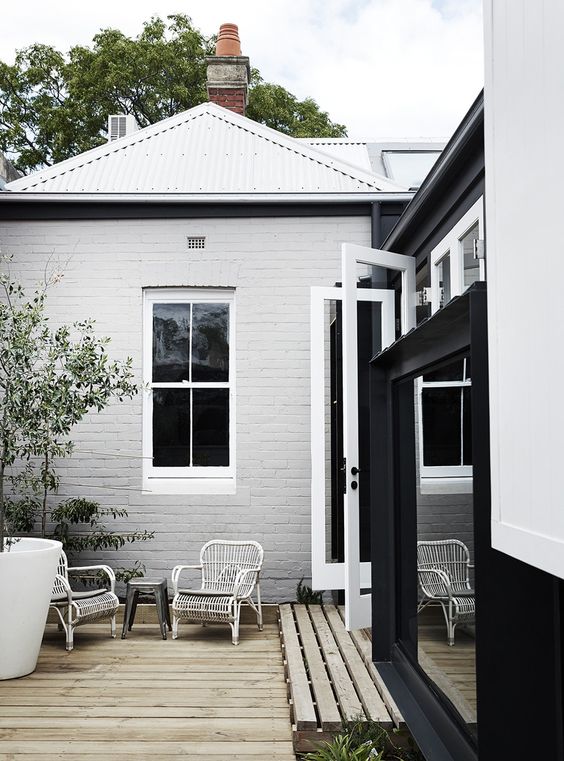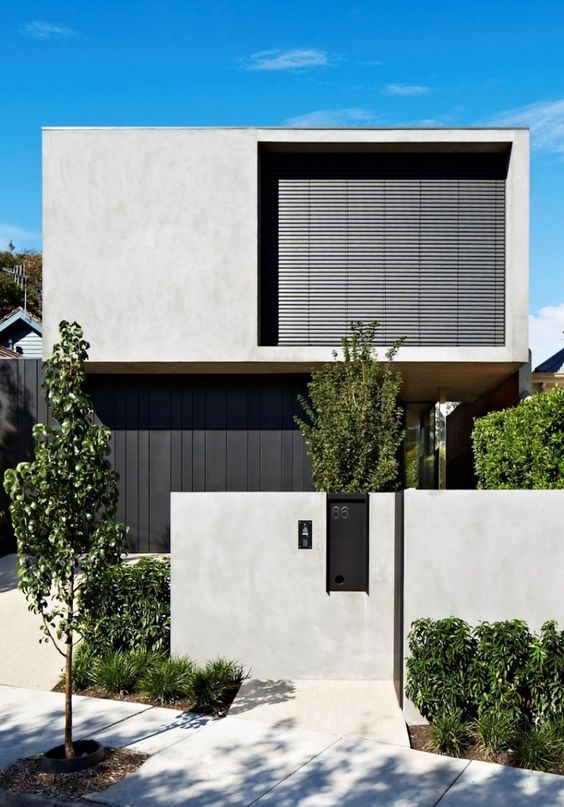 LIGHT OR DARK?
So which grey is for you? Dark and dramatic or pale and interesting?
Something which may affect your choice when selecting the perfect exterior grey is the aspect of your home. Aspect refers to positioning of your house and which direction it faces (north, south, east or west).
Dark greys such as charcoal, absorb heat. An article from Smart Ideas suggests "... dark coloured exterior walls have the tendency to absorb up to 90% of the radiant energy from the sun ..." This makes darker tones a clever choice for cooler climates, for homes in sheltered positions or with low light aspects.
Greys from the lighter end of the spectrum will reflect heat, ideal if your home is in an exposed position or receives a lot of light throughout the day, particularly through loooooong, hot Aussie summers.
KNOW YOUR UNDERTONE
We recently discussed the importance of understanding undertone in our article, Choosing a Winning White. A quick catch up for those of you who might have missed it ... undertone refers to the underlying colour at play in the white, or in this case the grey. A pure or neutral grey is a mix of only black and white. There are also warm and cool greys. Warm greys have a yellow, red or brown undertones and feel more earthy and grounded. Their icy offsider, the cool grey family, have blue and green undertones. As you might expect, cool greys feel crisper and edgier than their warm counterparts.
Have a think about which type of grey will best capture the mood of your home? Which undertone will work wonders with the style of your house? Will a warm or cool grey work with the exisiting exterior elements such as roofing, paving and fencing?
SAMPLE pots are your friend
Remember how we were talking about amazing shoes and how important it is to think through a big purchase? It's the same with painting your house. You must try before you buy my friends! Just as you would poke a foot into your dream shoe before committing, you simply must sample your paint colours. Sampling your colour gives you a great indication of how it will look through the day.
Now's the ideal opportunity to double check ...
+ you have chosen the right undertone
+ the colour you have chosen works with the surrounding exterior elements
+ you LOVE it (10 year+ commitment, remember?)
If you can tick in all those boxes, you have found the perfect grey- hooray! What are you waiting for? Time to break out the brushes!