Dark and dramatic? We love it. Bold and bright? Right on! As colour designers, we love helping clients personalise spaces with a splash of colour and dash of drama. But when it comes to selling houses, think again, a new set of rules apply. According to Village Real Estate's Huss Saad, "When you decide to sell your property, you need to cut the emotional cord. Your property becomes a product, that a buyer then compares to others in the market." It's not about you any more (sob). Instead, the focus is on creating interiors and exteriors with a broad appeal which welcome and wow!
A fresh coat of paint is one of the simplest ways to ensure your property feels warm and welcoming to prospective buyers. Here are our top tips when planning your pre-sale spruce up.
TIP: Keep it Simple
It's no secret that when it comes to selling houses, presentation is key. When buyers see your house for the first time, you want them to fall in love and remember it for all the right reasons. "Buyers want to feel at home instantly and they want to be able to see themselves living in the property." explains Saad.
For Saad's buyers in Melbourne's inner west, "There is an expectation around the quality of finishes for buyers in the $1.3 - 1.5 million market. Finishes such as bench tops, tiles and paint colours are really important for young professional couples. Family buyers are looking for functionality." Although buyers are looking for quality finishes and functional spaces, now is not the time to experiment with flashy feature walls or bold stripes. While you might love these elements, they might just give a prospective buyer an excuse not to buy. Instead, edge towards understated simplicity when giving your home a pre-sale polish.
TIP: Go Neutral
When choosing paint colours to appeal to a wide market, neutrals are an excellent option. "A neutral palette is a great base for buyers." says Saad. Neutrals work well across all house styles (classic, contemporary, modern) and provide the perfect backdrop for colourful accents.
Another positive about neutral spaces? They are easy to personalise, "Adding a feature to a neutral palette is an easy change for a buyer to make once they move in." confirms Saad.
White and cream work well for interior spaces as they reflect light and make spaces feel airy and open. Another popular wall colour option is taupe, greige (grey + beige) or grey. Opt for lighter shades to keep the room feeling spacious.
Keen to add colour? Use accent colours in small pops to bring interior spaces to life. Add colour with cushions, a throw rug or artwork. Lush indoor plants and fresh flowers also add flair to a neutral interior.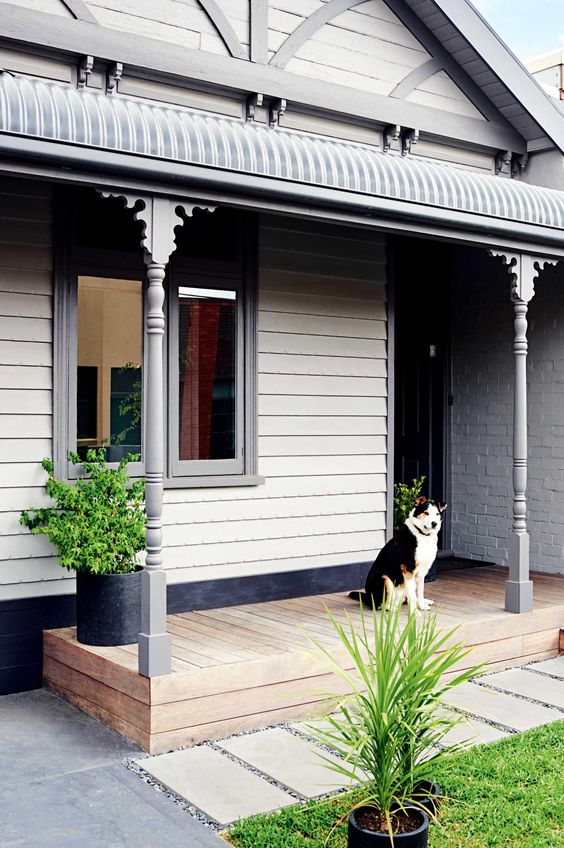 TIP: Create Kerb Appeal
"As a homeowner, if you are considering resale in the future, choose a colour which doesn't date." recommends Saad. From milky whites to soft earthy browns and shale greys, neutrals are an ideal choice for exterior updates.
When selecting a neutral for your pre-sale repaint, stick to the lighter end of the colour spectrum so your exterior doesn't feel too heavy. Pair neutrals with lighter colours like white to highlight architectural trim details and add a dash of contrast.
If you are planning an interior and exterior repaint, make sure there is a seamless synergy between your colour selections. A colour designer can help nut out the ideal neutral combinations to work wonders with the existing finishes in your home.
Keen to add colour? Neutral exteriors sit beautifully with lush landscaping. Add bold door mat to give the warmest of welcomes.
LET'S TALK COLOURS
Here's some interior neutrals we love: Wattyl Flokati, Haymes Greyology 4 and Dulux Natural White (a go-to, it's such a winner).
For the exterior, why not try: Dulux Tranquil Retreat (best colour name ever!), Murobond Opulence or Haymes Baked Clay.