In case you haven't noticed, we are pretty fond of colour around here. We're often asked how to successfully add colour to a child's room. Let's face it, getting a kids space juuuuust right can be tricky. Should the space be playful or restful? Fun or functional? How pink is too pink? And will they grow tired of the Paw Patrol mural they are demanding?
To answer these, and many more important questions we turned to Lauren Li and Chrissie Davies. Creator of delightful spaces, Lauren Li is an Interior Designer and the Founder of Sisalla. Colour is a key component of Lauren's work, we approve! Chrissie Davies is a Behaviour Consultant at Chaos to Calm Consultancy. Chrissie knows a thing or two about creating spaces which engage kids and encourage creativity and most importantly sleep!
To play or to sleep, that is the question?
Ideally a child's room should be fun and functional, a place where they can express their creativity, enjoy play and rest (after all that playtime has worn them out!)
Chrissie believes "When children are really young, the sole purpose of their room is for them so sleep. As children become more independent they may like to venture down into their room to play quietly. Storing toys and books in a child's room creates a sense of fun and playfulness, and if children have been taught how to sleep on their own there shouldn't be issues with them playing when they are meant to be sleeping."
While children need a place to express their creativity and explore safely, Chrissie recommends resisting the urge to create an adventure playground in your child's room. "Avoid choosing beds with ladders or hanging things as these could turn in to distractions for your child and ultimately create sleep avoidance behaviours." Cancel the jumping castle now!
creating a kids space? start here
Both Lauren and Chrissie agree upon the importance of getting your child involved in the design process. "My starting point when designing a kids room is to get an idea of who they are. So I ask about their interests to get some ideas on the concept for their room." says Lauren. "It can be a little more difficult to get an idea of who they are when they are really little, for instance in this girls room in this project. She was only three years old so often there aren't as clear interests as for the six and eight year old kids. Like most three year old girls, she loves pink so we went with something that wasn't too 'themed' so that she will hopefully still like it when she's older."
Lauren has interpreted the theme in a subtle way, the pink is there but it's not overwhelming. The space is playful and pretty. And that's where Lauren's rooms are really successful, they work so well for the small folk who use them but with a few small tweaks, and a tuck away of toys, could easily transform to a guest room or study.
Chrissie suggests getting children involved by "Encouraging them to set up their book shelves or choose a selection of toys they would like to keep in their rooms. Ask them about areas they would like for their rooms like a dress up box or a little work station of table and chairs. Changing things around every now and then also keep the space exciting."
think TIMELESS
Ever noticed how quickly kids change their minds? "I onnnnly like Paw Patrol. Can I have a Shopkins room? Muuuuummmm, Monster trucks are my favourite!" Hatchimals, loom bands and fidget spinners, it's hard to keep up. "Although it may be tempting to give into their requests for fairies on the wall when they are toddlers, you will find yourself remodelling every few years as they mature and their tastes change." says Chrissie.
So when you're selecting big ticket items for your child's room, opt for something timeless which can take them from toddler to teen. Look for multiple use items like a bed with trundle for sleep overs or a bed with large storage drawers underneath. When it comes to kids, there is no such thing as too much storage, right?
How to add colour
Now that we've covered the basics, lets get to the fun part- colouring in! A key ingredient in many of Lauren's designs, "Colour is so important in a kids bedroom as it creates a unique feel to their room which is different to the rest of the house, so their room is truly their own." Sometimes parents opt for white thinking it's might be fun to go minimalist but the end result can be a little drab. Colour is one of the best ways to create energy in a space. "Kids can express their personality through colour, whether it be coloured bedlinen, paint on the walls or a unique wallpaper, it all says something about who they are." believes Lauren.
And this is where things can sometimes go awry. "But Muuuuuuuuuummmmm, I only want a unicorn bed." And a unicorn lamp and a unicorn ... well everything. And once you commit to a unicorn everything, you have created a space which can't easily be repurposed without a huge amount of work and glitter removal.
So start small, a little colour can go a long way. Use colour cleverly to create a focal point in your child's space. Why not try ...
Create a graphic wall using paint or wallpaper.
Add pop with a colourful bed frame.
Be bold, add a bright door or door frame.
Add an amazing artwork or gorgeous gallery wall.
Inject colour with beautiful bed linen and cushions.
Create a place to display treasures such as favourite toys and books.
But of course, not ALL these elements need to be bold and bright. A mix of colour and neutrals will allow your chosen focal point to shine on through.
which hue for you?
Blue is for boys, pink is for girls- no way! Feel free to get creative, experiment a little. You can opt for bold brights or play with a pastel palette.
In the colour psychology world, colours have meanings and an effect on your (or your child's) mood and behaviour. Wanting to create a restful, relaxing space? Head for greens and blues. Reflecting the colours in nature, greens and blues create an environment where we feel calm and centred.
Planning to warm things up a little? Vibrant colours like red, orange and yellow are stimulating. These colours add zing and create a warm, energetic atmosphere. And just a pop is enough to liven things up.
See some of our fave kids colour combos below.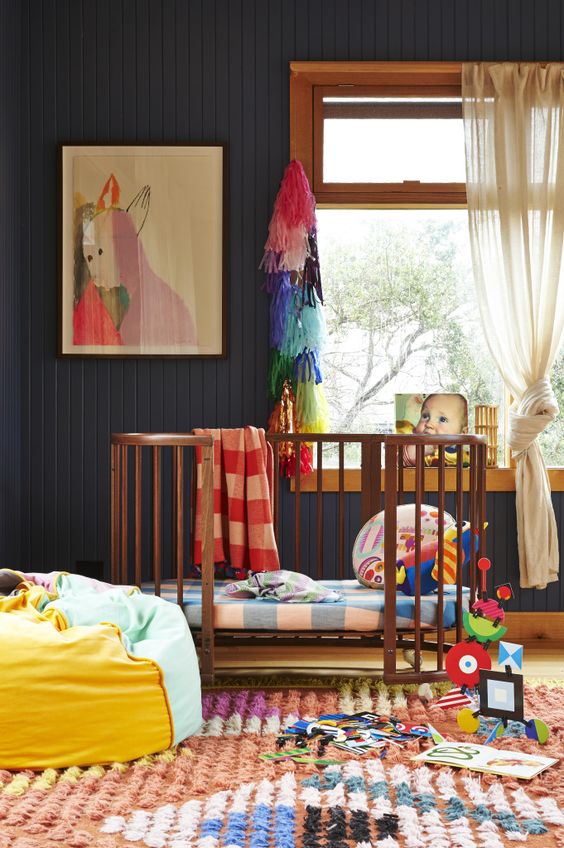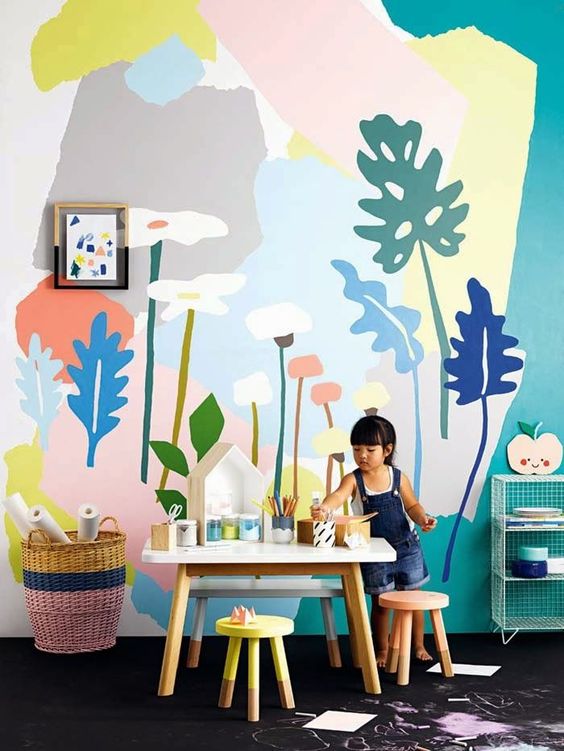 Lauren Li is an Interior Designer and the Founder of Sisalla, a boutique interior design and decoration practice. She does amazing things with colour, and was a finalist in the 2017 Dulux Colour Awards.
Chrissie Davies is a Behaviour Consultant at Chaos to Calm Consultancy. Chrissie does amazing things with families, creating understanding and strategies to meet the needs of children with challenging behaviours.
And Hello Colour? Well, we're colour enthusiasts and colour matching specialists. We can help you create the perfect palette for your small folk, or big folk for that matter. Find out more here.
LET'S TALK
Inspired to get colourful? Hooray! We'd love to see what you come up with. Share it with us on instagram, @sayhellocolour.
Keen to get some colour-spiration? We share plenty of cool colour combos right here.
Love to talk colour? We do too! Say hello.